Where has everything gone?
The old pages are there but only as the original hard links. I'm starting fresh to make a better site.
Happy New Year 2016
Friday 1st January 2016 00:00
Everyone at Chiggy.net would like to wish everyone a Happy New Year 2016.
---
Amiibo Shortages
Saturday 17th January 2015 13:05
Nintendo Amiibos have been out for several months now and we are just about to have the 3rd wave of drop next week, 23rd of January. They have sold very well and most of the figures been out of stock at one point or another.
Continue reading
---
Hyperkin Retron 5 Compatibility Issues Video 4
Monday 25th August 2014 23:20
We've now put up a new Retron 5 Compatibility video.

Continue reading
---
Hyperkin Retron 5 Compatibility Issues Video 3
Saturday 16th August 2014 21:56
We've now put up a new Retron 5 Compatibility video.

Continue reading
---
Hyperkin Retron 5 Compatibility Issues Video 2
Tuesday 3rd August 2014 15:02
We've now put up a new Retron 5 Compatibility video.

Continue reading
---
Hyperkin Retron 5 Compatibility List
Tuesday 22nd July 2014 19:35
Witht the release of the Retron 5 we are busy testing all of our games and accessories to se what does and doesn't work with the system. Which we aim to keep updating when we get new games or when a new firmware has been released.
Check the list out.
---
Hyperkin Retron 5 Compatibility Issues Video 1
Tuesday 22nd July 2014 18:35
Here is our first Retron 5 Compatibility Issues video.

Continue reading
---
Hyperkin Retron 5 Review
Tuesday 22nd July 2014 16:20
Hyperkin's Retron 5 is now avaliable to by in the US but not yet in the UK. However we've managed to get out hands on a unit. This is our review of the unit.
With the release of the Retron 5 there are questions regarding how well the system runs these classic games and accessories. So here at Chiggy.net we are going to try out all of our collection of games and accessories for systems handeled by the Retron 5 and will report back what we find and also if any future firmware releases fix any problems.

---
NeoGeo X Review
Monday 23rd June 2014 00:40
Here is our review of the NeoGeo X. The console is avalable rom from Funstock

---
Luigi's Mansion 2 Club Nintendo Statuette
Sunday 5th January 2014 01:10
Back during Decemberís Nintendo Direct a limited edition Luigiís Mansion 2 statuette was announced for Club Nintendo members in the US costing 1,500 coins. The same figure has also been made available on the UK Club Nintendo site for 7,000 points.


Continue reading
---
Penguindrum Figure
Sunday 5th January 2014 00:43
This Mawaru Penguindrum Princess of the Crystal Premium PVC Figure by Taito was originally a crane machine prize in Japanese arcades. This one was obtained back in April 2013 from a retailer in Akihabara.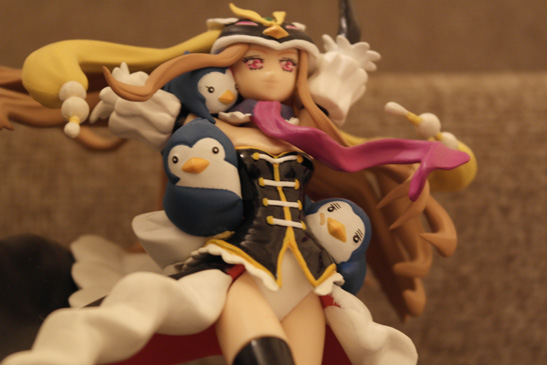 Continue reading
---
Happy New Year
Wednesday 1st January 2014 00:00
Happy New Year from all of us at Chiggy.net, Here's some Animal Crossing New Leaf shots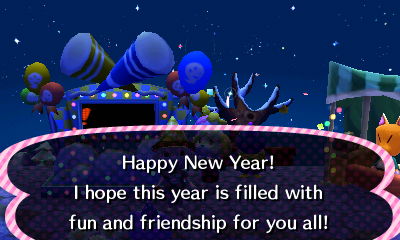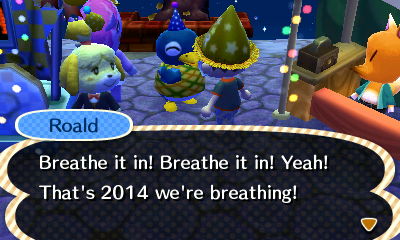 ---
Princess Mononoke Theatre Play Review
Saturday 30th June 2013 21:00
Earlier this year I heard about a small theatre troupe putting on a play based on Hayao Miyazakiís Princess Mononoke feature. I had to rub my eyes in disbelief, what I was looking at was real, Hayao Miyazaki had given permission for a UK theatre group to create a play on his story. It was even more surprising learning that instead of giving the rights to a West End group he had given the green light to a small group of actors/actresses who were unknown. But looking back on this fact, it is very much in the sprit of Miyazakiís beliefs. Unfortunately, when I saw the play advertised it was being performed at the same time as my trip to Japan and I lamented that fact as I felt it would have been a spectacular experience. Continue reading
---
Happy Holidays
Tuesday 25th December 2012 11:06
Happy Holidays from everyone at Chiggy.net
---
More Kid Icarus AR Cards Added To Gallery
Thursday 8th June 2012 16:52
Another 9 Kid Icarus AR cards have been added to the gallery. Continue reading
---
More Kid Icarus AR Cards Added To Gallery
Friday 25th May 2012 00:23
I recently got 8 packs of the Kid Icarus AR cards, These have all been added to the gallery. Continue reading
---
Kid Icarus AR Cards
Tuesday 10th April 2012 22:54
With the recent release of Kid Icarus Uprising collectable AR cards which can be used to obtain new weapons and hearts. I have managed to get hold of several packs of the cards and will be putting them into a gallery for others to use. Continue reading
---
Ninja Gaiden 3 Online Pass
Wednesday 21st March 2012 22:29
Today I got a retail copy of Ninja Gaiden 3 for Playstation 3. Opening the box I was surprised to find a slip with an online pass code. What really confused me was that there was no sign of the need for the online pass on the box. So people looking to buy the game second-hand need to also pay £7.99 (GBP) or $9.99 (USD) to play itís online features. The online pass is also on the Xbox 360 version but I donít know the cost at the moment.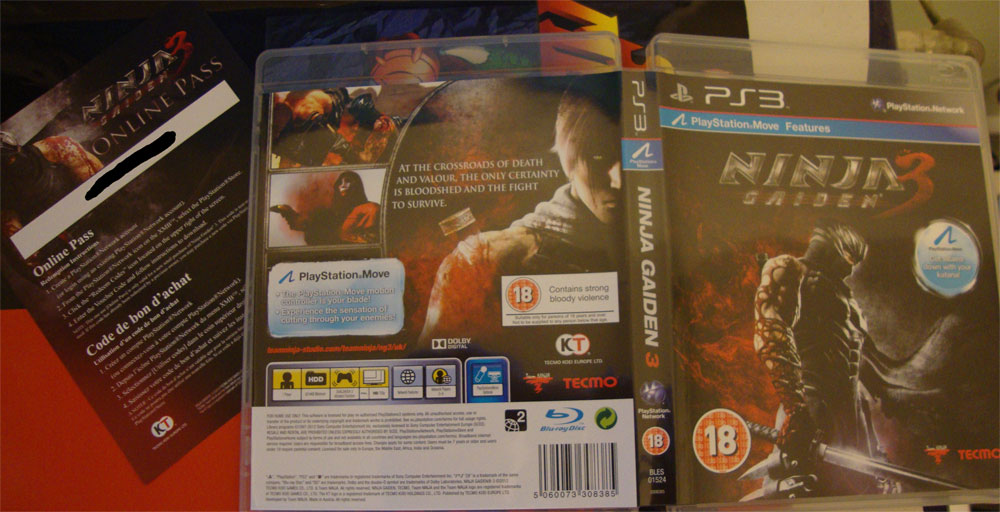 You can buy Ninja Gaiden 3 from Shopto on Playstation 3 or Xbox 360 for £34.85 and Collector's Editions on Playstation 3 or Xbox 360 for £69.85.
Continue reading
---
Super Metroid Guide
Thursday 12th January 2012 00:06
Super Metroid is considered to be one of the best not only on the Super Nintendo but also of all time. In the UK the game came with a Playersí Guide rather than an instruction manual. So as Super Metroid is now out on Virtual Console for Wii I have created a gallery of the guide that game with the original version. Continue reading
---
Call Of Duty: Modern Warfare 3 Launch Deals
Monday 07th November 2011 14:53
Tomorrow is the launch day of the latest in the Modern Warfare series of games. The most interesting thing regarding this is that this is going to be the first Modern Warfare game since almost everyone left Infinity Ward due to a disagreement with Activision. Of course most of the average gamers will not even know of the restructuring of the development team. Instead they are looking forward to the new game is such an enjoyed series. The game is coming to almost every console in current circulation however most of the offers are only on the Xbox 360 and PlayStation 3 version. Continue reading
---
Steve Jobs RIP
Monday 06th October 2011 01:40
Today is a sad day for the IT world with the news that Apple co-founder, Steve Jobs, has lost his battle with cancer at the age of 56. Apple announced his passed and paid homage to him on their site. Continue reading
---
Gears Of War 3 Limited Edition
Monday 19th September 2011 22:30
Today I got my copy of Gears Of War 3 from ShopTo. I ordered the limited edition version of the game. Continue reading
---
Possible Scam Emails From PSN Hackers
Sunday 30th April 2011 15:30
With all the issues that have been kicking off over the recent PSN people have been waiting for the people who performed the hack, or someone who brought the data, to start doing things with the data horde that they acquired.
First Kevin Stevens from TrendMicro twitter that the details were for say online (MSNBC article). However I wonder how much of this is true as they sellers report having credit card details, which Sony say were encrypted and not touched, as well as the CVC or CSC codes which Sony never asked for.
There have also reports of a Australian man who had AUD$2000 take from his card. The transactions seem to match up with when the PSN was hacked (ABC News article).
However this morning I received two emails which seem to be phishing emails which seem to have some sort of link to the PSN hack. Continue reading
---
Nintendo 3DS Lives Up To The Hype
Sunday 6th February 2011 23:35

Early yesterday I had to drag myself to The Old Truman Brewery in London to attend the Nintendo 3DS private preview event. This was not the easiest task as most of the rail network had been closed for works. So the rest of the Chiggy.net team and I had to walk from Liverpool Street. Once we got there we were originally going to attend at different times but do to the works lots of people didnít turn up. This meant that we were able to get into the event together earlier than planned.
Once inside we were greeted by a display of holograms, Nintendo portable hardware through the ages. We were then shown an artistic representation of the how Streetpass will bring people in the street together.
We then came to a darkened room where a traditional Japanese house set was the place for a martial arts demonstration of Ryu and Ken from StreetFighter. The fight was a nice demo and the actors managed to keep there moves to that in the game. They ended with Ryu and Ken just about to perform fireballs Then the music being played changes to the timeout music and both fighters performed the same time out actions from StreetFighter 4.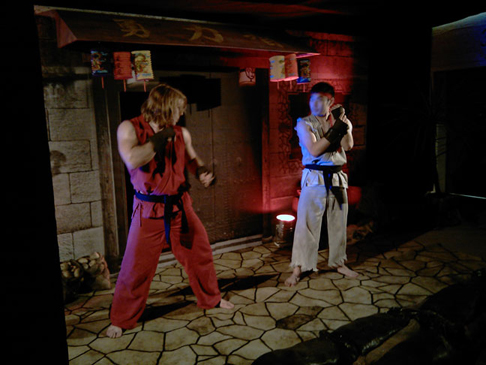 The next room seems to have been set up to look like the laser security room from the first Resident Evil movie. Where two actors playing Chris and Clare Redfield come through and rattle of a bit about an outbreak, they then grouped people up walked them through a darkened room with a cardboard shed and so people dressed up as zombies.
Then we come to a white room where they have screens set up showing video of the 3DS and then we had a video of Jonathan Ross saying how much he loves the 3DS. At this point Iím thinking that I just want to get some time on the system. Then a screen is moved and they present us with a room with loads of 3DSís for us to play.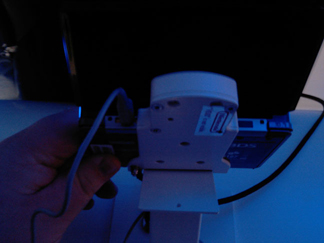 The first moment I held the system I noticed that it felt to be made of stronger material than the earlier DS systems. The controls all seemed robust and well positioned and the giro sensor seems to respond well. The cameras on the 3DS work but seem to be the same as the DSi, but you get two on the front of the system. This means that the image quality is not on par with current mobile phones. The system will use the same charger as the DSi range, this is great for me as I already have a US/Jap & UK style charger for my DSi and when I go abroad means I wonít have to hunt one down for the 3DS. Another interesting thing is that the 3DS also has an infra-red port. Not sure why but I guess it will be used. Now onto the reason why most of you will be reading this how does the 3D work? The answer is very well. Looking at the screen while 3D is great, you can see the 3D and the scale of death brilliant. At the event I play about an hours worth and never once fell my eyes strain in both a dark and light room. The 3D does only when in a very tight sweet spot. But once your there it is very effective, however move just a slight bit out of looking almost straight on and the two images start to separate dramatically. I feel that people like myself who donít have matching vision in both eyes will only be able to play in 3D while wearing glasses or lens. Even though 3D is sharp moving the 3D slider down adjusts the image until you get to the bottom and the screen flickers as it goes to 2D mode. Here the graphics are even clearer. The unit is about the same size as the DSi as you can see in the photo I took.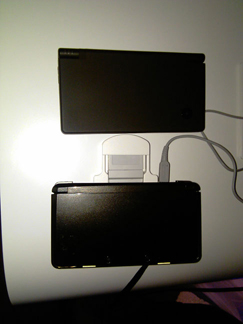 At the show they had a collection of games you could play but also running videos of possible games and services. They had the same videos as shown at E3 with Mario Kart, Animal Crossing and Metal Gear Solid 3. There was even a video reporting that Sky 3D content will be made available on the 3DS. I managed to get some game time on Super Street Fighter 4, Resident Evil, Kid Icarus, Nintendogs and Cats, Dead Or Alive and Ridge Racers. All these games had a great coat of quality showing off some great graphics and played well. StreetFigher and DOA stood out for me to be the games of the event. I also played Rayman, Raving Rabbids and SteelDivers. These all seemed to be the lower end of the 3DS quality and did nothing to make me want to get them.
They also had a set of systems were people could play with some of the 3DS features. The augmented reality feature is great fun where you point the 3D camera at card and it will start a game. The one on show was where you had to shoot boxes floating around where the card was placed. There were also 3D camera demos and the Mii creation tool. All these features worked well enough even with the cameraís limitations.
All in all the 3DS is going to be a great piece of kit and has some brilliant titles heading out for it. I feel that even at the current price Nintendo are onto a winner with the 3DS.
---
Shopto.net Offers Limited Great UK 3DS Price
Friday 21st January 2011 23:11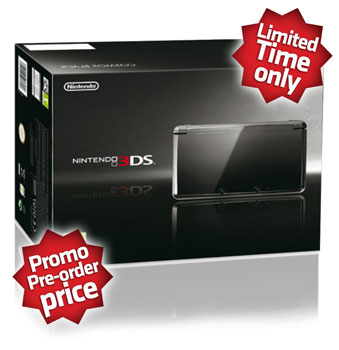 UK gamers looking to pick up a Nintendo 3DS at launch have seen a large range of prices for the new hardware. Retail chain Game wants £229.99 while Amazon and Play.com are asking £219.99 for Nintendoís next portable system. The real front runner on the race to offer the cheapest 3DS appears to be online retailer Shopto.net. On Wednesday when Nintendo released the details about the 3DS launch in US and Europe Shopto first posted a price the same as that of Amazon and Play.com. However this afternoon anyone who had already pre-ordered their blue or black Nintendo wonder box would have received an email reporting that the price had been dropped to £199.85. Bring the 3DS below the £200 price most gamers were hoping for. However there is a catch, this is a limited time offer and at an disclosed date the price will go back up.
So if you are looking for a good deal on a launch UK 3DS go over to Shopto and make a order before the price goes back up.
Shopto are also offering some nice discounts on 3DS software to. Most of the 3DS games are £34.85 instead of the £39.99 rrp. However they have outdone themselves with the prices for Super Street Fighter IV, Resident Evil Revelations, Resident Evil Mercenaries and Metal Gear Solid Snake Eater all for £29.86 each.
All prices are correct when the article was posted. Chiggy.net is not responsible for price changes or any errors on external links.